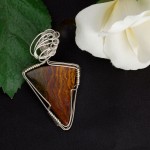 Maury Mountain Moss Agate Pendant
Silver wire wrapped Maury Mountain Moss Agate pendant
Available Qty: 1
Price: $80.00
This pendant is crafted from a beautifully marked piece of deep brown Maury Mountain Moss Agate surrounded by sterling and finished with an intricately wrapped bail. The deep lustrous stone is 55mm x 30mm with lovely symmetrical sterling silver wire work formed into loops and tight rings around the head of the triangular shaped gemstone. The wire is made of Argentium 930 Silver – a formulation that has high tarnish resistance.
The stone has maximum dimensions of 2.0 x 1.25 inches (5.5 x 3.0 cm).
The pendant is sold alone so that you can couple with a chain of your own choice, but please see my store for alternate sterling silver chains if you prefer to purchase both items.
This item is available with Free Shipping to the US and Canada. Please contact me for other destinations.